Service Description
Fred de St. Croix of the Forge Thru Thyme Metal Job Shop has been involved with industrial installations and repairs, product design & manufacture, and management of projects for over 20 years.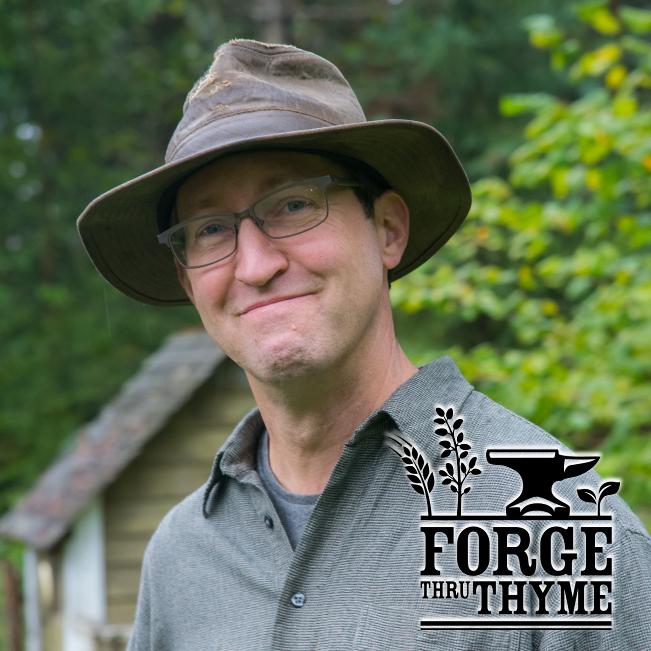 Dedicated to the reinvention, design and manufacture of quality made equipment aimed towards the home gardener or local low-impact market farmers, serving the Central Vancouver Island area.
---
Seasonal Preorders
Spring:
March: Broad Forks(3rd Annual Build)
April: Wheel Hoe(1st Build)
Summer:
June: Picnic Table Kit (4th seasonal Build)
July: Wagons and Carts (Coming Soon)
Fall:
Sept: Passive Ventilation Louvers (Coming Soon)
Winter:
December: Gifts from the Forge (4nd seasonal Build)
---
Q - Why Preorder?
A - From our experience the Pre-Order model reduces costs for the local suppliers while resulting with a higher quality and value product for the customer at reasonable costs compared to one off custom contracts. This results in a win-win situation for customers and suppliers, who appreciate the advantages of more traditional low impact methods. Another advantage is that this permits the product design to evolve over time as with each build buyer feedback can be applied to the design.
Q - Are all products suitable for Pre-Order sales and Marketing.
A - Not all products are suitable for Pre-Order, and the conventional retail supply model continues to provide excellent convenience and lower costs on supply of most items. As markets adapt to changes in international transportation costs it is becoming more economically smart to support locally grown and manufactured.
---
Contact:
Call, Text or Email Fred to arrange a meeting to discuss your desired product. If we feel it is a worth while product that is suitable of this model of supply then I'd be glad to start a collaborative project with you.
Light repairs to pieces of equipment that is worthy of new life.
Custom contracts based on merit of RFP or RFQ.
$75/hr
8630b Lory Rd. Black Creek, BC V9J 1B9, 250 898 7317
---
Products:
Industrial Artisan Built
Focused on the design and manufacture of better products while respecting that better is relative first to the perception of the customer and then to the supplier. Customer perception of better often focuses on quality, durability and functionality with price being an important factor also. An understanding that inventive design is not always better design, and that often times better can be found from the reinvention of more traditional methods and designs.
Better for the supplier relies on tapping into readily available materials, manufacturing capacity, simple designs that are easy to build following clear specifications, and providing longer production runs through the pre-order model.
These products are all designed in collaboration with our customers, fabricated by ForgeThruThyme in Central Vancouver Island. We do outsource and collaborate with other local businesses and craftsmen when special equipment processes or increased output capacity is required to fulfill obligations. We encourage everyone to sourcing locally grown and fabricated as this will strengthen local communities to adapt to the constant evolution of life.
Some of the following products are available at retail price and are stocked in Black Creek, and will be available for sale at local markets this spring, this price includes the honest costs for stocking, storage, promotion etc.
We understand that our retail pricing may not be in reach to many who are working hard at making ends meet. So we offer a seasonal pre-order special pricing sale. Customers who can afford the slight inconvenience of a small advance deposit and a patient wait for delivery of their product can save money. The savings that comes from advanced scheduling, time, cost of materials, manufacturing, subcontracting is worth so much then we are happy to pass this along to our most important customers.
---